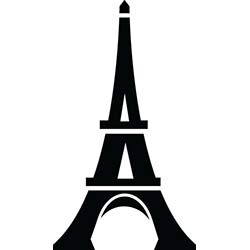 This is now the seventh day I've been in Paris with my family. Until now, we have had a busy enough schedule that I haven't had time to publish any blog posts. I've been keeping notes, believe me. But have I been able to sit long enough at a stretch to actually publish anything? Not so much, so far.
Plus, there's the matter of not being able to sign onto the church website from France, or probably anywhere other than the States, to post new entries.
Sunday, 11 June 2017
So, today is special. It's Sunday, and we've spent the day getting ready to travel again. Tomorrow morning at 7:15, our driver arrives to take us back to Charles deGaulle Airport.
We have a flight out at 10:30am which will deliver us for the afternoon, to London – Heathrow. That will provide our connection to Accra, Ghana, where we will arrive at 7:30 in the evening.
Although we've spent a week at a latitude where the sun doesn't set until almost 10 o'clock, and the sky is still light until 11, tomorrow it will be dark at 7:30. So, we'll travel from the airport to the Coconut Grove Beach Resort in Elmina under the pall of night.
For the next four days, we'll have a chance to relax after such a rich cultural experience here, for me to reflect here… and pick up with our pilgrimage where it got left, this past Monday.
On Monday we were welcomed to Paris by Shannon, who is the daughter of Julia Browne, founder of Walking the Spirit Tours. Shannon noted that my family and I were here, especially to enjoy a walking tour of "Black Paris." And she offered a brief biographical sketch of Josephine Baker for Gwen to appreciate as we talked.
Paris was the home of many African American intellectuals, entertainers, and artists, as well as military personnel and some folk who just wanted to be treated like human beings, during the first half of the 20th Century.
The group included musicians, especially jazz musicians, and the sounds of jazz waft out of restaurants and brasseries everywhere as you pass them. In fact, the lobby of the hotel where we have been staying has a 24-hour repetition of jazz standards by such luminaries as Louis Armstrong, Duke Ellington, Ella Fitzgerald, Lionel Hampton, and Miles Davis. You might guess that this same French (or at least Parisian) fascination with jazz continues in clubs and other venues all over town.
During her introduction of Paris, as we were talking about getting around the city, Shannon said that she hoped we would enjoy our Black Paris tour on Friday. She mentioned Place Josephine Baker, where the tour was scheduled to begin, in the shadow of Tour Montparnasse. She asked Gwen whether I had told her about Josephine Baker, who was a native of East Saint Louis, Illinois. When Gwen demurred, I volunteered that Gwen had been in the room when I was watching a video about Josephine, but I thought that somehow Gwen had missed the Banana Dance.
Shannon said that she hoped Gwen would watch Josephine dance, sometime, especially the Banana Dance, for which Josephine would don a skirt made of bananas… and little else. Shannon said, "She would dance in ways that would be very sexy and then she would strike poses and make faces that were very silly. Often people didn't know what to think of her because she did that, but they were fascinated and excited because of the way she performed."
Gwen seemed unimpressed. Maybe it was her lack of sleep, just then. Maybe it is that she's not quite done with being 10 years old. She spent much of the week shocked at how many public displays of affection she saw, and lingering displays at that!
And people smoking, she is definitely not pleased with the prevalence of cigarettes in Paris.
Anyway, she definitely came for the Eiffel Tower. I came for Black Paris. "Why are you so interested in that?" she would eventually ask. "Because I have an almost obsessive, vested interest in knowing how and where African Americans are and have been feeling successful and blessed," I answered.