Premier Location! Versatile Spaces! Affordable Rates!
These are the hallmarks of 10 West Lockwood, the event space within First Congregational Church of Webster Groves. Located between I-44 and I-64, 10 West Lockwood is easily accessible.  Spaces are available for receptions, meetings, training sessions, trivia nights, craft shows – a wide variety of activities. All rentals are for 4-hours and include an additional hour before the event for set up and an hour after the event for cleanup.  Our event coordinator who will work with you to meet your specific event needs.
See event space information below.
Memorial Hall:  The largest event space at 10 West Lockwood works well for a wedding reception, gala event, and trivia night or speaker conference. A theater production could be staged here as well. There is a stage with a curtain and a microphone sound system. Located on the first floor, Memorial Hall has a separate entrance for guests from the parking lot located off Elm Avenue.  Memorial Hall can accommodate up to 175-200 capacity depending on the seating arrangements.  Rental Fee:  $1,000.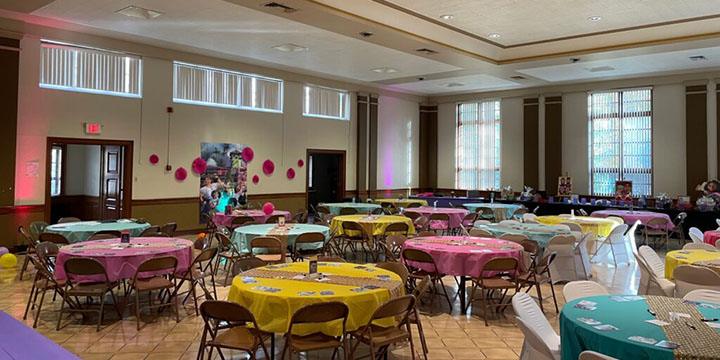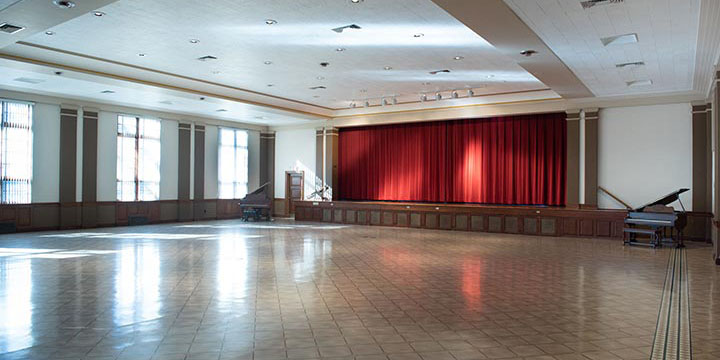 Kitchen:  A well-equipped kitchen is adjacent to Memorial Hall.  Arrangements can be made to use the kitchen for an event.  A rental fee will be assessed based on your usage.  Consult with our event coordinator.

The kitchen is also available for a small food-preparation business.  As shown here, workspaces, and the use of the freezer and refrigerator, can all be arranged to facilitate your business.  A rental fee will be assessed based on your usage.  Consult with our event coordinator.  Call for details and pricing.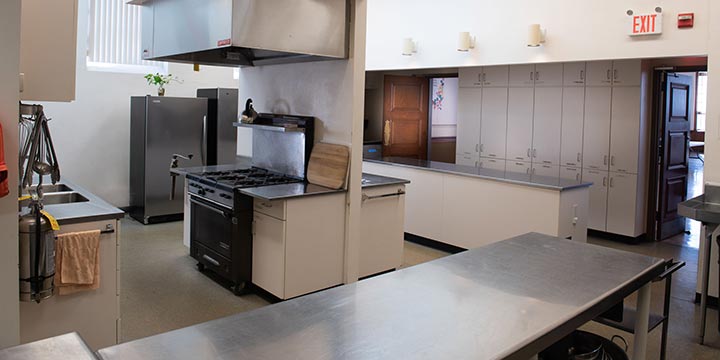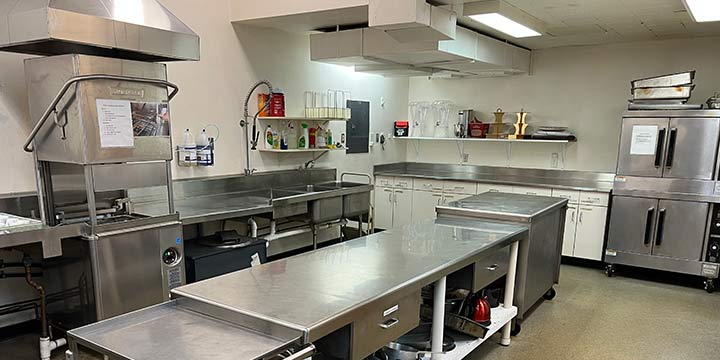 Sanctuary: This elegant, architecturally significant, space was designed by Kurt Landberg, with glorious windows by Robert Frei and Sons.  The exceptional organ was built and installed by Casavant Freres Limitee.  The excellent acoustics has made it the perfect performance space used by local, regional and national artists for concerts and recitals.  The sanctuary is also a magnificent wedding venue.  Use as a wedding venue requires consultation with the pastor of the church. Adequate parking and accessibility welcomes those in attendance. Rental Fee: $500.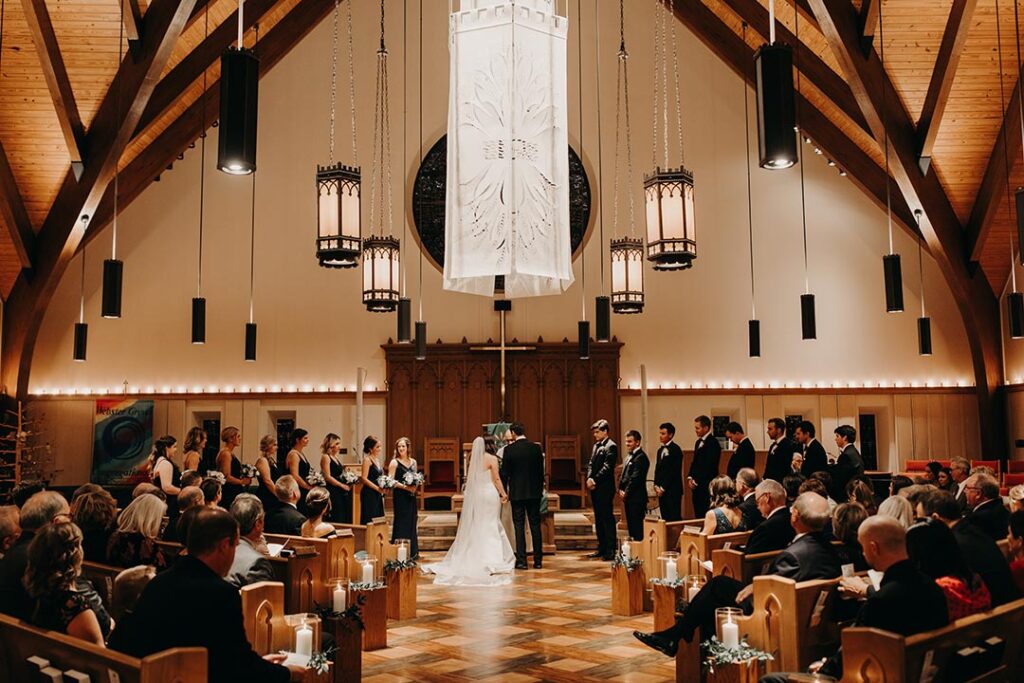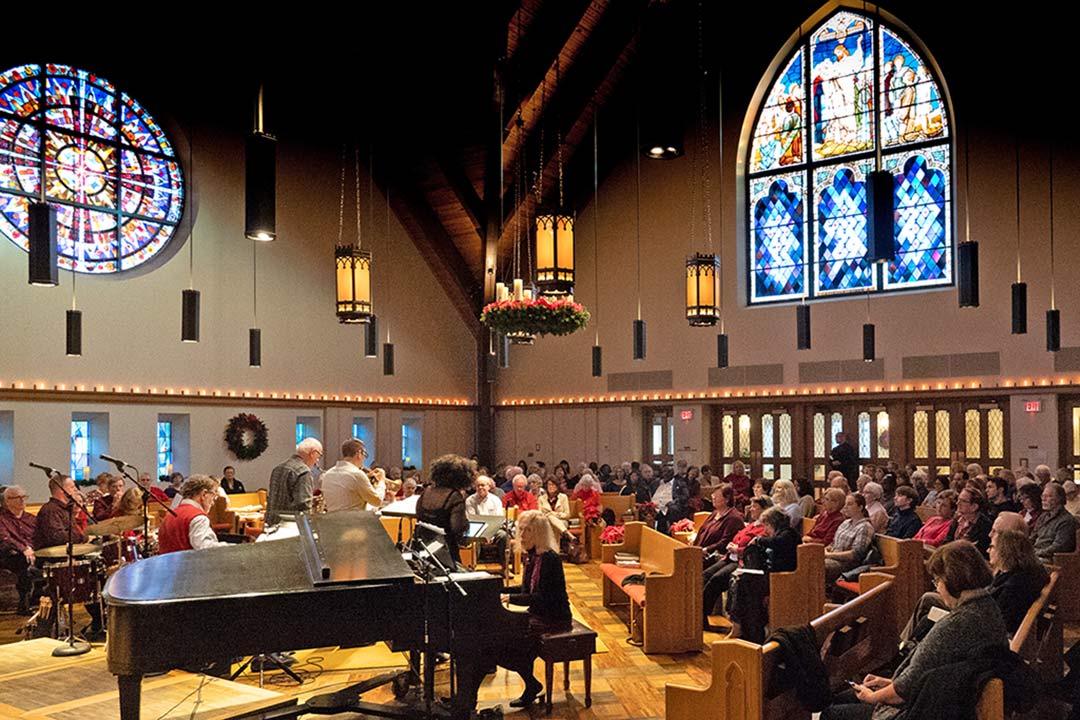 Photo credit: Jacoby Photo and Design
Inglis Room:  This comfortable meeting space is located on the second floor of 10 West Lockwood and is accessible by stairs or elevator.  The room can be arranged to accommodate the needs of your gathering.  Shown here with a functional layout, it could also be decorated for a party, a shower or other festive gatherings.  The small kitchenette is available for food and beverage service. The room can accommodate up to fifty people, depending on type and configuration of the tables. Round or rectangular tables are available.  Rental fee: $250.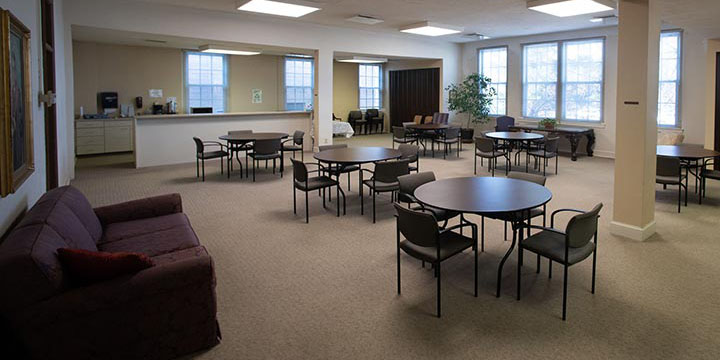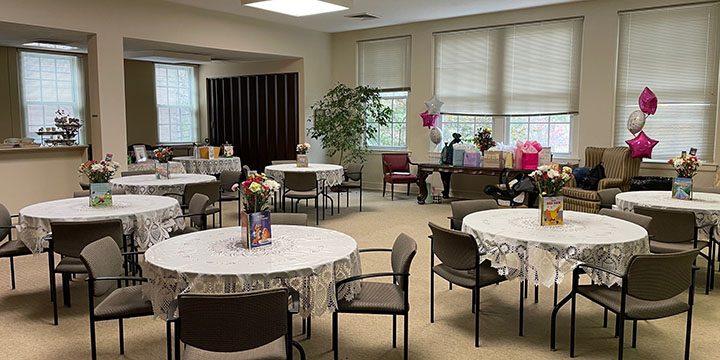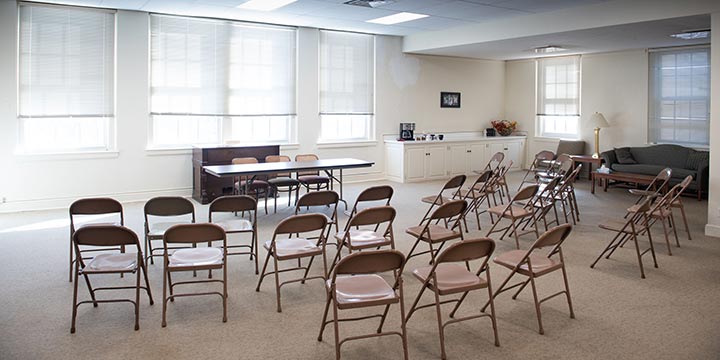 Kishlar Room:  This room is an excellent space for a small speaker event or community gathering.  Focusing on functionality, you can arrange the room to meet your needs.  It is located on the second floor of 10 West Lockwood, accessible by stairs or elevator.  The small countertop, located next to the windows provides space for convenient service of food and beverages.  The room can accommodate seventy-five people when seated classroom style.  Other configurations with round or rectangular tables are possible.  Rental fee:  $200.
Inglis + Kishlar Rooms:  This functional and attractive hallway separates the Inglis and Kishlar rooms described above.  The two rooms could be rented together and used for workshops or planning meetings that require versatile spaces for presentations, training sessions, breakout groups, small group discussions or times for social interaction. Consult with the event coordinator regarding the fee for reserving both rooms.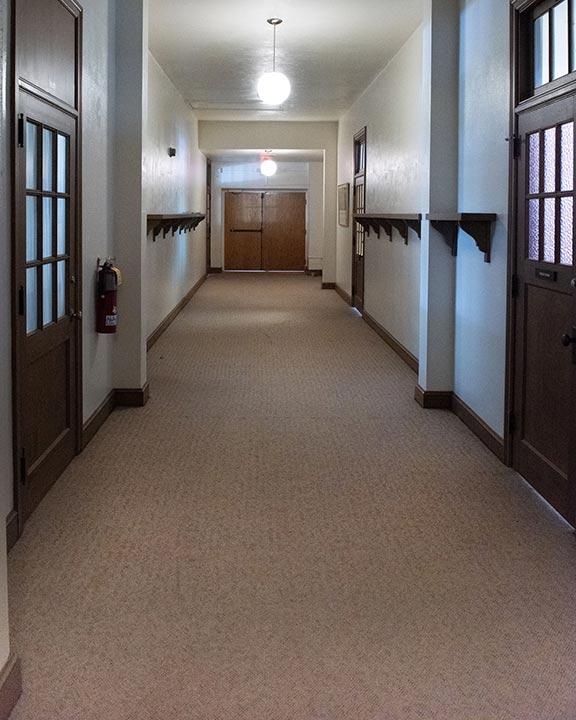 Catering can be contracted through an outside catering company and food can be brought on the day of your event. A list of catering companies is available upon request. Guests may choose to bring in platters or trays of food and beverages to Kishlar and Inglis.

Parking is available on two lots attached to the building. One lot is accessed off Gore Avenue and the other off S. Elm. Our event coordinator will suggest the appropriate lot(s).
Payment: 50% deposit is due within two weeks (14 days) of contracting with the final balance due one week before the event. Your 50% deposit officially holds the space for your event.
Please let us know if you have any questions or would like to set up a tour ([email protected]). We look forward to hosting your special event at 10 West Lockwood.
Thank you for contacting us regarding your event rental. Please fill out the form below, click submit and a member of our team will get back with you shortly.