Meet the participating Artists and the Ecologists
of Journey Through Creation
The Artists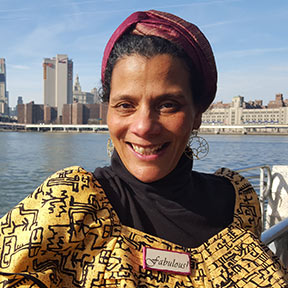 Valerie Tutson has traveled the world teaching and sharing stories and songs since graduating from Brown University with a self-designed BA, "Storytelling As a Communications' Art" and an MA in Theatre. She shares stories from world cultures, emphasizing Black Traditions. She delights in re-imagining and retelling age-old Bible stories. A life-long member of the UCC, Valerie shares her gifts at local, regional and national events, and in ecumenical and interfaith settings.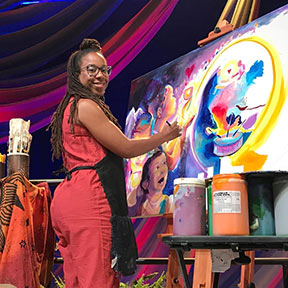 Tia Richardson is a full-time community mural artist based in her hometown of Milwaukee, Wisconsin. In 2003 she graduated with an associate degree in Graphic Design from Milwaukee Area Technical College. Since 2007 her work has evolved into mural projects that offer community members from all walks the chance to freely express their diverse feelings and perspectives. Documentation of her focus on trying to create a sense of unity through art shows evidence how, despite our differences, we can work together for the common good. Tia has completed over 50 murals in partnership with non-profits, K-12 and post-secondary schools, businesses and local government. She was recognized as Artist of the Year by the Milwaukee Arts Board in 2018, and in 2020 produced a short film about one of her projects called 'Rockford Taking Flight'. To learn more about Tia and her community art practice, visit www.cosmic-butterfly.com.

Jennifer Medina
holds a BFA and an MFA in dance. She has served as Dance faculty at institutions such as UMKC, Webster University, the Kansas City Ballet School, American Youth Ballet. Her choreographic research focuses on the lived experience of women. Her choreography has been produced by companies and universities throughout the U.S. including Washington University, Webster University, and UMKC and professional dance organizations such as the Tallahassee Ballet, Missouri Contemporary Ballet, Arova Contemporary Ballet, Wylliams-Henry Contemporary Dance Theater and the Virginia School of the Arts
She is currently on the dance faculty at Washington University in St.Louis and the Director of her own school, SkyStone Conservatory of the Arts. She is also working with Dance the Vote as an artistic consultant, and she is developing a resource organization to fight verbal and physical abuse in the dance field, with an objective to develop a national standard and licensing for dance educators. Jennifer is a proud dog & cat mom and enjoys time with her pets, time outdoors, and her cabin in a remote area of the Smokey Mountains. To learn more about Jennifer and her work, visit www.SkyStoneArts.org
The Ecologists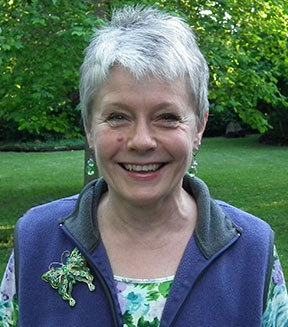 Jean Ponzi is an ecological advocate. She is grounded in St. Louis, Jean Ponzi is a Plant Ally whose eco-logical work blends teaching, coaching business sustainability, writing, public speaking, interviews, storytelling, and bursting into song. Through her work as Green Resources Manager for the EarthWays Center of Missouri Botanical Garden and her podcast Earthworms, from KDHX St. Louis Independent Media, "Green Jean" motivates her fellow humans toward living well, sustainably, with our diverse Earth relations.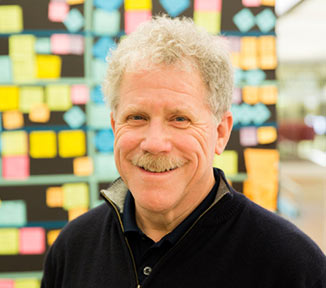 Dr. Michael "Mick" Smyer is the founder and CEO of Growing Greener: Climate Action for an a Aging World. Mick taps expertise in gerontology, communication strategies, and human-centered design to move people from anxiety to action to habit on climate change. He uses psychology and behavioral economics to help participants replace their habit of climate avoidance with a specific action, their next step on their own climate journey.
Mick is the former Provost and an Emeritus Professor of Psychology at Bucknell University. A national expert, Smyer has written and lectured extensively on aging.
Dr. Smyer holds a bachelor's degree in psychology from Yale University and a Ph.D. in clinical psychology from Duke University. A native of New Orleans, Mick provides vocals and "nuanced" washboard with the Rustical Quality String Band, including on their most recent CD, Rescued from Oblivion.
For more information about Journey Through Creation, the artist and ecologists, the first webinar and resources,
click on the links below.
This program is made possible through a Vital Worship Grant from the Calvin Institute of Christian Worship,
Grand Rapids, Michigan, with funds provided by Lilly Endowment Inc.