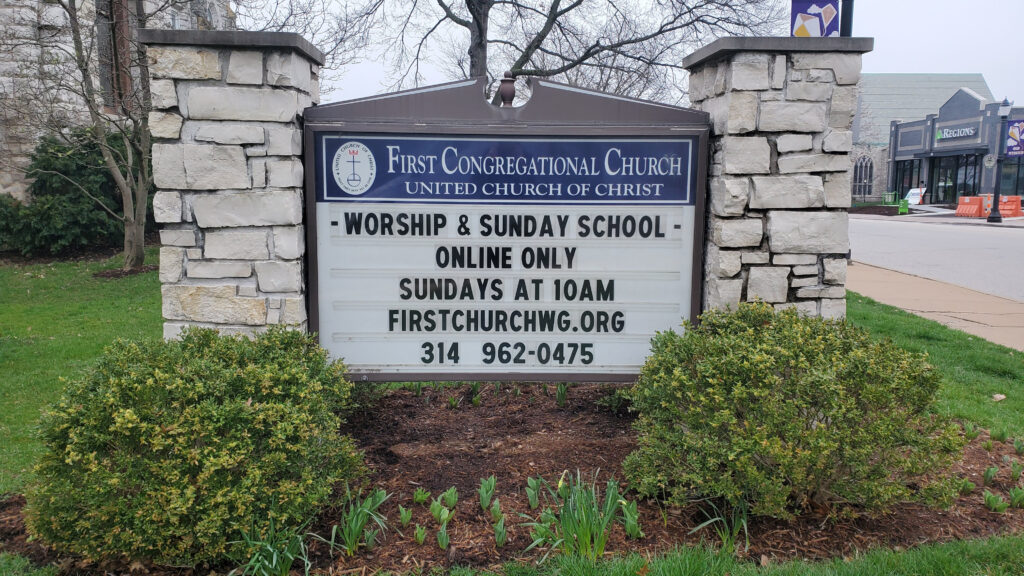 Welcome to First Congregational Church of Webster Groves
Until Further Notice, Worship is Online Only
Tune in at 10:00 am Sunday mornings using Zoom or YouTube (live stream)
All worship materials will be on screen so you can follow along.
Download bulletins and sermons.
Meeting ID: 975 1194 9295
call 312-626-6799 (audio only)
Meeting ID: 975 1194 9295

Worshipers using Zoom, please note: When you arrive, your microphone will be automatically muted. You will see the little microphone icon in the lower left corner of the toolbar. When muted, as seen in the image at left, there is a red diagonal line through it. Please, do not click on the Unmute button until the Pastor has said it's OK, at the end of worship. Once your mic is on, it picks up all sounds, conversations and everything that's happening at your location. Everyone that is logged will be able to hear.

Stay and Join us for a Zoom fellowship
(314) 962-0475
10 W. Lockwood Ave. (at Elm Ave.), Webster Groves
First Church is a safe place to be yourself and to expand your heart and mind. We understand the importance of honoring our diversity as people – all our many colors, shapes, sizes, abilities, preferences, opinions, positions, backgrounds, and directions.
There aren't many places in our world where that happens anymore, and we don't do it perfectly here. We have our differences (and Oh! the differences we have!), but our Christ informs us that we are to love one another just as God loves us, even those we may consider unlovable.
So, we are a faith community determined to treasure everyone and the earth we share, and to be ready to have our hearts changed and our lives transformed by those we work with and serve.
We are a church of families and individuals bound together in a common promise, to seek to know the will of God, to experience the joy and struggle of discipleship, and to work for peace and justice among all people.
Seek Christ in each. Serve God in all.

Every human being is a child of God. We take seriously the understanding that Christians should be able to differ in matters of belief or practice and still worship and live harmoniously.
All people deserve the nurture and support of God's abundant grace and eternal love. We recognize this grace and love through the life and witness of Jesus Christ and the ongoing activity of the Holy Spirit.

We unconditionally welcome all people of any age, gender, gender identity, gender expression, race, culture, ability, or sexual orientation into our community of faith and affirm the worth of all people as unique individuals made in God's image.

Covenant of 1976
We who are called of God into this Christian community covenant together:
To seek to know the will of God,
To experience the joy and struggle of discipleship,
To proclaim in word and deed the love of Christ, and
To work for peace and justice among all people.
We trust God's promise of grace and forgiveness,
and the presence of the Holy Spirit in our trials and rejoicing.