Alternately Thrilled and Terrified – An Itinerary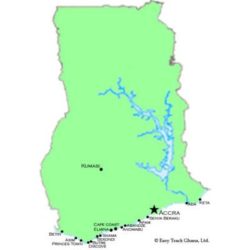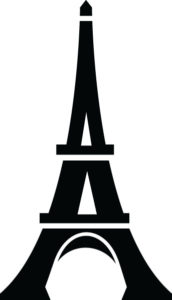 We're almost on our way. When people ask how we're feeling, we've been saying, "Alternately thrilled and terrified." Gwen acknowledged this at dinner, last night, when she observed that Mom and I are a bit on edge lately, as is she, because, "This is our first time traveling out of the country. OK, this is my first time out of the country, but it's been a long time for you two."
Indeed, it has been.
This Sunday, we catch a plane for Paris. We'll be there, 5 – 12 June (You'll notice that I've learned to write dates, international style). We have arranged for the usual Paris tourist stuff – the Eiffel Tower, the Louvre, Versailles, a cruise up the Seine. In addition, we've arranged a tour of the Montmartre neighborhood where many African American intellectuals, artists, and entertainers resided during the first half of the 20th Century.
On Monday, 12 June, we'll travel to Accra, Ghana.
Immediately upon arrival in Accra, we'll catch a ride to Elmina, a seaside town near which are located two former slave castles – the remnants of a trade in human beings which treated those people as if they had been property. The nearest is Elmina Castle, or São Jorge da Mina (St. George of the Mine), erected in 1482 by the Portuguese who pretty much invented the Atlantic Slave Trade. Further east up the coast is Cape Coast (originally in Portuguese, Cabo Corso) Castle, constructed by the Swedes in the 1650s as a trading post but soon transferred to the Dutch. By the 1720s it was in British hands; by that time, it had become one more point of no return for hundreds of thousands of enslaved Africans.
Ironically, most of my family's time in Elmina will be at a resort where we plan to enjoy some quiet time on the beach, at poolside, horseback riding, and generally relaxing. Excursions to each of the castles is planned, as part of this pilgrimage we have set ourselves on.
On 16 June we'll be met by the Rev. Gershon Dotse, a minister of the Evangelical Presbyterian Church in Ghana which is a sister denomination of the United Church of Christ. Rev. Dotse has been studying for the past three years in the United States as a student at Eden Theological Seminary and with the Clinical Pastoral Education program at the Laclede Groves Senior Living residences of Lutheran Senior Services. For eleven days, however, he will be our guide on pilgrimage with an itinerary he will have designed.
Our last three days in Ghana will be spent in Accra, visiting places of cultural and national interest – especially the final home of the towering American intellectual and ardent Pan-Africanist W. E. B. DuBois, who spent the last five years of his life there. DuBois' vision was one with that of the first President of Ghana, Kwame Nkruma, who dreamed aloud and often his desire for "a United States of Africa" – a dream thwarted thus far by nationalisms, tribalism, greed, the after-effects of colonialism, and foreign interference.
On 26 June, we leave Accra for Dakar, Sénégal, where we will have two full days to tour the former capital of French West Africa. We expect to visit Île de Gorée (Goree Island), just off the coast – where a slave castle exists which was functional especially for the French and Portuguese participation in the slave trade with the islands of the Caribbean and ports in South America. Gregory Peck fans may be interested to know that Guns of Navarone was filmed in part on Goree, and one of the set pieces – an enormous cannon – remains there.
Friday, 30 June, we'll get on the first of a series of three flights (connections in Madrid and London) that put us finally in Oslo, Norway, where some old friends will meet us and host us for a week.
Although we had imagined that this was just going to be us taking advantage of some hospitality we've been invited to enjoy for years, the fact is that we've learned of a Norwegian connection with our African pilgrimage. The major castle, Osu, located in Accra and preserved well enough that it served as the seat of government of the republic of Ghana for many years, was at one time called Fort Christiansborg, having been occupied in the 1660s by the Dano-Norwegians who converted it from trade in ivory and gold into a post primarily for trade in human cargo. (Don't worry, Knut. We won't make you answer for this personally…)
Saturday, 8 July, we'll head for home, making overnight trips and short stays until it is time to continue our pilgrimage by traveling to Washington, DC, where we will visit the new National Museum of African American History and Culture at the Smithsonian.