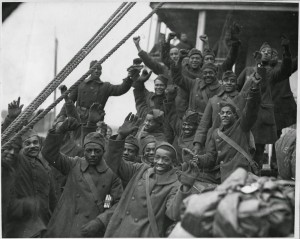 29 May 2017 (Memorial Day)
Few of my faith community know the history of the 369th Infantry Regiment, also known as the Harlem Hellfighters. This Memorial Day post is provided in part, to remedy that omission.
To learn about them as I did, I recommend that you take a moment to watch at least the portion of PBS' recent American Experience series, The Great War, dedicated entirely to their experience in World War I (video excerpt).
The discovery by these men, that they would be treated with dignity in almost any part of the world that was not their homeland invested in them a sense of pride and purpose that would not fade after they returned home.
It was thanks to them and other African Americans who fought in the First World War or who lived abroad during this same time that there would develop a refusal to accept the American racial status quo.
Though they had been trained like all other soldiers for combat in the war, when they arrived in France they were relegated to service duties. Eventually, they would be placed under French command with a warning by the American command to the French that the soldiers were members of an inferior race who exhibited rapist tendencies
In the year of the War during which they fought, 1918, the 369th were part of three major campaigns (Argonne, Champagne 1918, and Alsace 1918), saw 191 days under fire, and experienced 1,500 casualties. None of this service was served with other Americans; all of it was served under French command.
They never left a member behind but rescued any of their unit who were captured. In remembering them on Veterans Day 2011, Rep. Charles Rangel (D-NY) noted that the 369th served six months on the front, and 171 of them would be awarded either the Legion of Honor or the Croix de Guerre.