18th Sunday after Pentecost
Jubilee Worship
Rally Day
September 18, 2016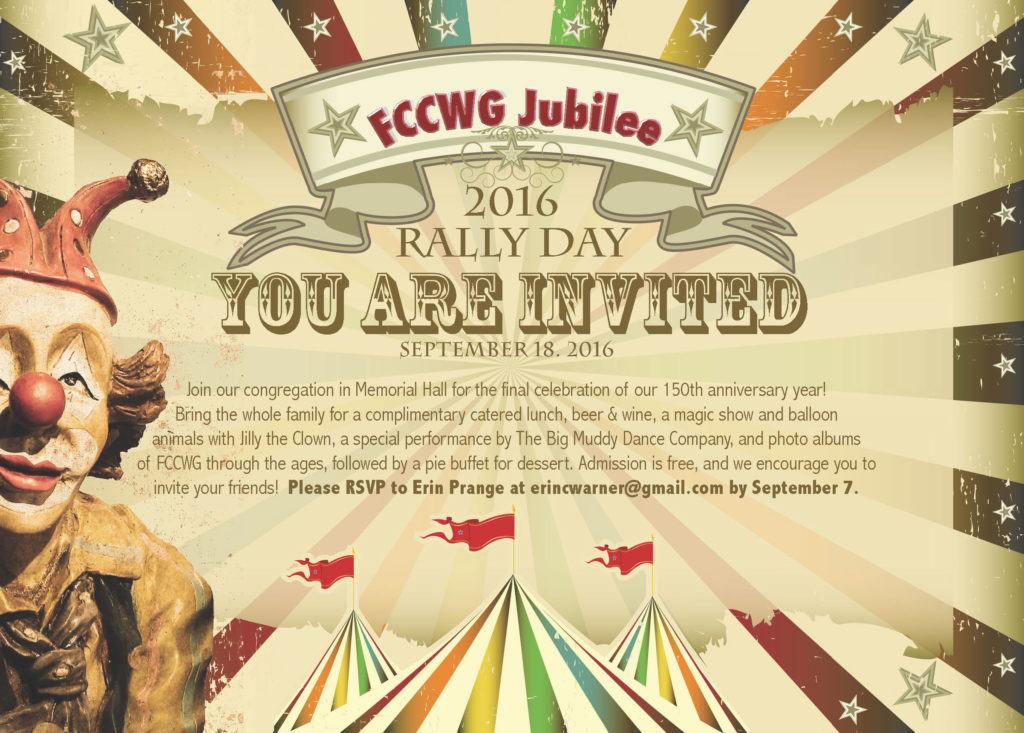 Order of Worship and Bulletin (link)
We have adopted a circus theme for this Grand Finale of our Jubilee Year. Silly Jilly the Clown will join us, as well as dancers from the Big Muddy Dance Company, and we'll share a wonderful feast. Our guest preacher will be the Rev. Dr. David Greenhaw, President of Eden Theological Seminary.
Music for the day will be by the Oîkos Jazz Ensemble, and our Chancel and Children's Choirs. Worship will end with a very special recessional – an arrangement of Born This Way by Lady Gaga!
All are welcome to this Day of Celebration, upon the ending of our 150th Jubilee.
Scripture of the Day
"We are fools for the sake of Christ," the apostle Paul once said of himself and other Christian leaders (1 Cor 4:10a).
Paul wasn't happy when he wrote those words. He was saying that he felt like a jester in the court of a king. Indeed, First Corinthians is full of admonishments he aims at a group of people who, as far as he is concerned, thought too much of themselves. "You have become rich! … You have become kings! … You are held in honor, but we in disrepute," he alleges. Meanwhile, Paul and the others who brought the Corinthians the good news lived in poverty, "poorly clothed and beaten and homeless."
Still, Paul insisted that there was something good to be said for fools like him –
When reviled, we bless; when persecuted, we endure; when slandered, we speak kindly. (1 Cor 4:12, 13)