From the Pastor
March 2017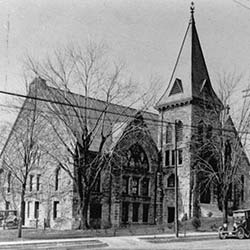 Dr. Inglis Called It!
I was recently researching in the First Church Archives, to find information about the Rev. Dr. Robert Leslie Parker, Jr., when I ran unexpectedly across some words of the Rev. Dr. Ervine Inglis which I thought were particularly insightful – and not a little prescient, in fact – regarding the unfolding history of our church.
In 1950 Mr. Parker was about to become the first African American to be ordained in a Congregational church in Missouri. Beecher Memorial Congregational Church in New Orleans, Louisiana, was prepared to call him to their pulpit. But first, he would have to become a member of a Congregational church, and there were no historically Black churches among the Congregationalists in St. Louis. So, the St. Louis Association's secretary, a certain "Mr. K. Murphy," had petitioned Dr. Inglis. First Church was the nearest Congregational church to Eden Theological Seminary, where Mr. Parker was a senior student, and therefore the likely candidate for his membership and ordination.
Dr. Inglis had the Board of Deacons (now the Parish Life Ministry) consider whether to follow this course. The vote in favor was pretty much pro forma, and Mr. Parker's membership was approved. His ecclesiastical council was set for April 28. This was a theological review by clergy and laity of nearby Congregational churches, to determine his fitness for ministry. He passed and was ordained on May 5 with 30 clergy present, including his professor of Systematic Theology and the president of Eden Seminary, who each preached one of the three sermons offered during the service!
Anyway (and this is where my research took the turn that demonstrated to me Dr. Inglis' prescience), I read the Deacons minutes of the first half of the year 1950 in order to learn this and more about Rev. Parker.
At the Board of Deacons' May 1950 meeting, Pastor Ervine Inglis reflected with them on the happy success of our ordination of Missouri's first African American Congregational minister. He reported as well on the joyous news of the official openings of Church of the Open Door and Brentwood Congregational Church, both of them plantings by this church in neighborhoods to the north and south.
But those new church starts meant that we had successfully transferred out of the congregation in less than one year's time 86 adult members and their children. Furthermore, it would be inappropriate for us to continue harvesting from the spiritual fields now served by Open Door and Brentwood. So, Dr. Inglis said, now First Church would have to compensate for the transfers by focusing strongly on congregational growth.
And we would. Reports of new member recruitment for that summer alone indicate that First Church got well over 100 newcomers to sign on as members.
But Dr. Inglis was able to recognize a challenge that, at that time, we had created for ourselves – a challenge that in the present day is obvious. By cultivating our Brentwood and South Webster (Faith) satellite Sunday schools into new church starts, we were over-extending ourselves.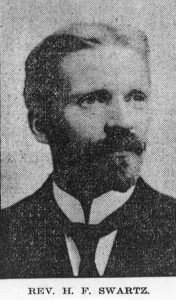 A dream that began in 1909 with an inspiration of Pastor Herman Swartz – to further develop our satellite congregation at Brentwood and plant new ones at Greenwood (southwest Maplewood), South Webster, Selma, and west Kirkham – had resulted in an unsustainable situation by mid-century. Brentwood and South Webster would become bustling enough that First Church could not afford to staff them with just one associate pastor; each would require its own. And the building at Greenwood was in need of such costly repair that the project was abandoned just five years in 1914. The Selma and west Kirkham enterprises were never realized, partly due to Rev. Swartz's exit in 1911 and partly because we just didn't have the volunteers available to staff them anyway.
Our situation, a little more than a century beyond Rev. Swartz's inspiration and half a century out from Dr. Inglis' observation, is one for which simple recruitment is probably not the answer. Neither is a sincere desire for expansion. We have too few people and too few programs to support a building begun in 1871 and completed in 1994 after probably ten efforts at construction and redevelopment.
That leaves us in 2017 facing existential questions: Who are we? Why are we here?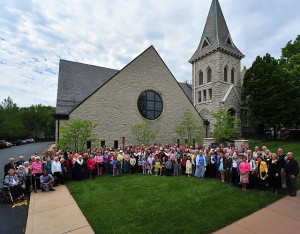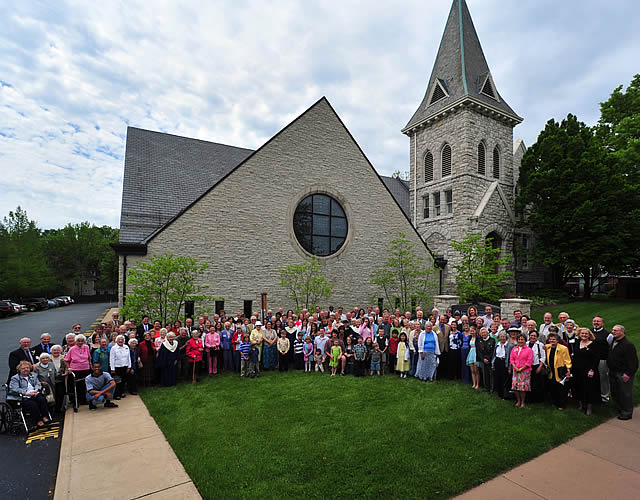 I had not expected that our 152nd year would be spent at renewal. Granted, I had expected to take a sabbatical in my seventh year as your pastor; that was part of my Terms of Call. The Lilly Endowment, however, as terms of funding that sabbatical has guided us toward these questions. And it is a critical time in our development to be considering them. As people "called of God into this Christian community" what perspectives and endeavors is God seeking to cultivate among us?
As Moderator Phil Shoulberg points out in this issue, we will have a new Green Space and Jubilee Garden soon. As DCE Tracey Harris indicates, we are seeking to learn from the experience of African Americans in our church and society as we reflect, this Lent and into the summer. As I have stated in sermons recently, the call of God upon us doesn't stop when we join the church, we are constantly encouraged to change ourselves and to be changed by the needs we recognize around us and among us.
This can be a potent time. Let us seek to be answerable to it!
Peace.
Pastor Dave Denoon
God, grant us vision and wisdom like yours, to recognize your call upon us and the ways in which we should go, in Christ's name. Amen.