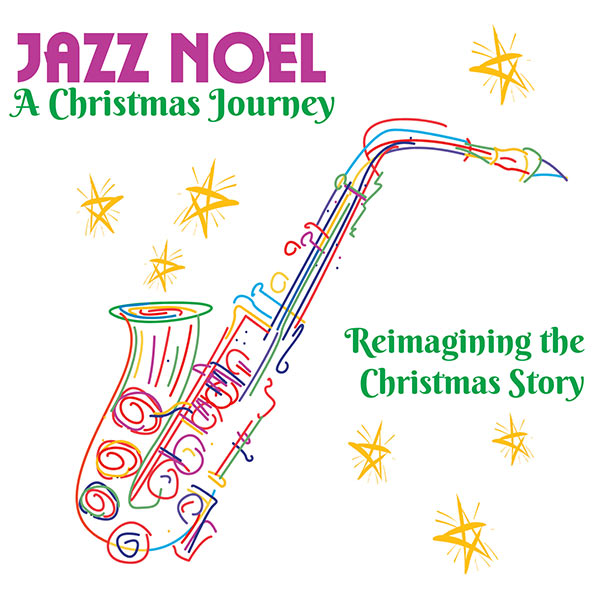 Jazz Noel — Sunday, December 15 At 3:00 pm
First Congregational Church of Webster Groves
10 W. Lockwood Ave., Webster Groves MO 63119

Jazz Noel is a modern-day reimagining of the Christmas story through the improvisational spirit of jazz. This is Jazz Noel's 9th season featuring the music of the Oîkos Ensemble. Also performing this year will be the Terra Nova Singers and the Logos Readers.
The Rev. Dave Denoon, pastor of First Church says, "Jazz Noel reimagines Christmas through a contemporary jazz lens. Each year the essential Christmas narrative stays the same, but the artistry of the performers brings the story alive in new ways. It is a wonderfully creative experience that fills the soul with the blessings of Christmas."
This year's theme, "A Christmas Journey," will highlight the story of Mary and Joseph's precarious journey to Bethlehem and the plight of this young immigrant family fleeing for safety to a foreign land—an inspiring message of peace and hope that resonates in these contentious times.
Jazz Noel is free and open to the public. A free-will offering will be received to benefit a local charity.
The Oîkos Ensemble (www.oikos-ensemble.com) is a national jazz ministry under the direction of its founder and saxophonist, the Rev. Cliff Aerie. The band features some of St. Louis' most talented jazz musicians—Carolbeth True (piano), Glen Smith (bass), David True (drums), Tim Osiek (trumpet) and one of St. Louis' great jazz vocalists, Kim Fuller. Oîkos has performed at more than 300 faith-based communities around the country.
The Terra Nova Singers are comprised of Arianna Aerie and Kevin Warner. Performing in St. Louis for the past decade, they have been featured soloists at many of the most prestigious early music concerts. The Logos Readers are an ensemble of select choral readers as part of First Church's Ministry of Imagination, Creativity and the Arts (MICA).
Rev. Cliff Aerie (www.worshipjazz.com) is a musician and storyteller, with a uniquely varied background in the arts and ministry. He has been leading jazz worship services and sacred jazz concerts for more than forty years.