Due to the outbreak of the Covid-19 Virus and our commitment to community health and well-being,
all Holy Week services will be streamed online
Tune in to our YouTube Channel or Facebook Page
You will be able to listen to the service on our SoundCloud page
Sundays in Lent
A mind-blowingly insightful, Jewish interpretation of Christ's Passion!
Entering the Passion of Jesus: A Beginner's Guide to Holy Week by Amy-Jill Levine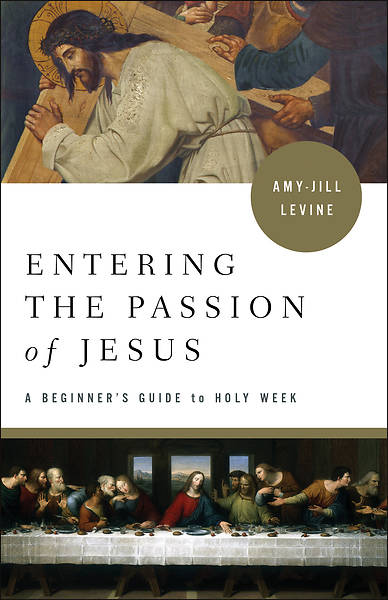 For the Sundays in March and Palm Sunday, Pastor Dave Denoon is leading an online Bible study series based on a book by the (Jewish) professor of Christian history at Vanderbilt University, Amy-Jill Levine. The series includes video commentaries featuring Prof. Levine and vibrant discussion featuring you!
Prof. Levine's admiration for the teachings of Jesus and respect for his Jewish voice add height and breadth and depth to familiar stories, from the Triumphal Entry to the Last Supper and beyond. You won't want to miss a moment! 
Discussions of chapters 3, 4, 5, and 6 are being uploaded to our YouTube channel.
---
Sundays, March 1 – April 5, 11:00AM (will be streamed, online)
Entering the Passion of Jesus: A Beginner's Guide to Holy Week
by Amy-Jill Levine
Lenten study with Pastor Dave Denoon on Sunday mornings, of a book by Vanderbilt University's Jewish scholar of Christian history. Copies of Prof. Levine's insightful and provocative book are available for $10 each from the church office.
Worship on Sundays in Lent (10:00 AM)
Tune in to our YouTube Channel or Facebook Page for Sunday Worship
You will be able to listen to the service on our SoundCloud page
Pastor Dave Denoon uses each of the six Sundays in Lent to highlight events of the final week of Jesus' earthly life: The Triumphal Procession (March 1); The Demonstration at the Temple (March 8); Commandments and Money Matters (March 15); The First Dinner (March 22); The Last Supper (March 29); The Arrest and What Came After (April 5).