Palm (Passion) Sunday – April 9, 2017
We are joined again, this year, by KC – our favorite donkey! Come, be part of the procession as "Jesus" makes a triumphal entry into "Jerusalem" – complete with excited children and loud shouts of "Hosanna!"
Palm Sunday 2016
featuring Eden Seminarian Phil Barbier as Jesus
Two new households will be received into membership during morning worship, and the Children's Choir will sing.
The afternoon of April 9 will follow the mode of Passion Sunday, as our Chancel Choir performs Rosephanye Powell's Cry of Jeremiah and Still I Rise. The presentation will be at 4:00 in the afternoon and includes a chamber orchestra and voices from the Bach Society Chorus under the baton of Dr. Ray Landis, our Director of Music and Organist.
---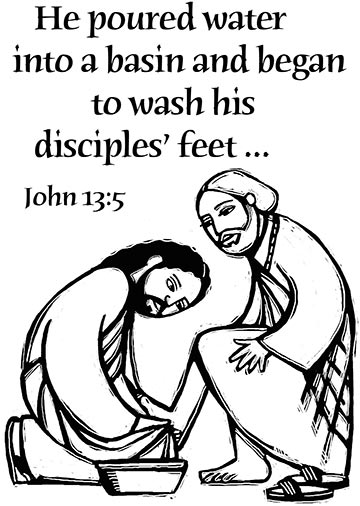 Maundy Thursday – April 13, 2017 – 7:00 PM (at Peace UCC)
Worship for Maundy Thursday will take place at 7:00 PM, at Peace United Church of Christ (204 E. Lockwood Ave. in Webster Groves). Please, join us there!
---
Good Friday Blues – April 14, 2017 – 7:00PM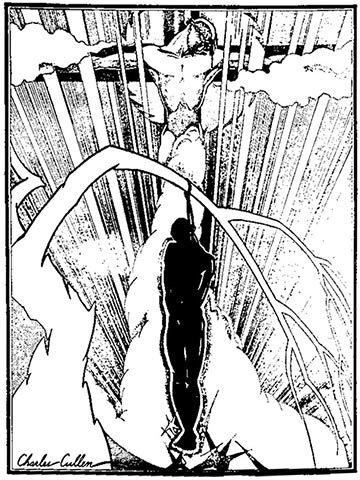 The Oîkos Ensemble plays blues renderings of gospel and lament hymns, and jazz standards (including "Strange Fruit" made famous by Billie Holiday).With narration, scripture as storytelling, and prayers, all to mark the remembrance of the Messiah's execution."The hour has come." (Mark 14:41)At right, illustration for "The Black Christ and Other Poems" by Countée Cullen (New York: Harper & Bros., 1929). Illustration by Charles Cullen, an artist who was no relation to the author.
Featured image on our Worship Notes page, cover art also by Charles Cullen for the same volume.