Professional Staff
Dr. Ray Landis, Director of Music and Organist, has been leading our music programs since 1998. He is an accomplished organist and directs our Chancel Choir and Canterbury Bells. He holds degrees from Messiah College in Grantham, Pennsylvania (Bachelor of Science in Music, graduated Magna cum Laude); University of Cincinnati, Ohio (Master of Music in organ performance); and University of Cincinnati College-Conservatory of Music (Doctorate of Musical Arts in organ performance, cognate in choral conducting). Ray's interest in performing arts has led him to conduct a number of non-musical programs at the church also, including Ezekiel's Wheel, a puppet ministry designed for older elementary and middle school students.
When not at the office, Ray can often be found working with children's arts and developments programs in East Saint Louis, Illinois. He currently serves as the Chair of the Board of Directors of the Sunshine Cultural Arts Center there.
Please click here to learn more about music programming at First Congregational, or call Ray at (314) 962-0475, ext. 17.
Read the latest information from Ray and the First Church Music Department.
---
Tim Cleary (not pictured here) is our Assistant Director of Music for Children and conducts our Children's Choir and the musical portion of our Sunday School class time.
---
Tracey Harris, Director of Christian Education, , leads our educational offerings for all ages, with energy and inspiration. Her education and experience in family services and religious and spiritual development have commended Tracey to the creation and success of many childcare programs, church schools, camps, and YMCAs. Under her leadership our students of any generation learn and practice the central Christian truth that everyone and all the world are beloved of God and deserve our respect and care.
In their down time, she and husband Jim enjoy Civil War re-enacting. Tracey is also the mother of two adult children and the proud grandmother of one.
Please click here to learn more about our classes for adults and children at First Congregational, or call Tracey at (314) 962-0475, ext. 12.
Read Tracey's announcements and reflections.
---
Rev. Linda E. Smith is the Director of our Center for Counseling & Healing. She is a certified Healing Touch practitioner and instructor with over 30 years of experience in nursing. She is also a board-certified psychiatric/mental health nurse, a board-certified professional counselor/DA, and holds a license in Clinical Social Work.
Her diversified background includes teaching in hospital and university settings. This has prepared her to advocate for the mind/body/spirit connection in therapeutic work. Linda therefore provides wellness counseling from a holistic perspective, including hypnotherapy and Healing Touch.
She brings a sensitive and nurturing approach to her clients and students. Anyone interested in her services can email Linda at lesrhs@sbcglobal.net or give her a call at (314) 440-2096. Linda is a graduate of Sancta Sophia Seminary near Tulsa, Oklahoma, with a Master of Divinity degree and was ordained for ministry by the International Council of Community Churches. Rev. Smith and the Center's Healing Team lead us occasionally on Sunday mornings in services for healing and wholeness.
To learn more about Linda's work, the Healing Touch modality of care, and the services offered by the Center for Counseling and Healing, please click here, or visit her Facebook page.
Support Staff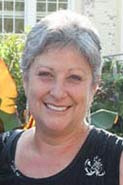 Debbie Tolstoi, Office Administrator, came to First Congregational Church at the end of January, 2017.  She has worked in the past as the administrative assistant at Christ Church, United Church of Christ, in Maplewood. But for the past few years she has run her own web design and marketing business, Tolstoi Designs. Not inclined to work only in an environment by herself, even though her terrier Buddy has been by her side, Debbie decided to apply for our Office Administrator position when she saw it posted in the Webster-Kirkwood Times.
Debbie is a graduate of Parkway Central High School, studied for at Maryville College (which the University was, then), and graduated from Webster University with a degree in Management and an emphasis in Marketing, receiving departmental honors.
She lives in Richmond Heights with Buddy "the bad thing" (at least to rabbits, who rarely survive an excursion in her back yard). She is a passionate gardener and is past president of the Richmond Heights Garden Club.
Debbie will be in the  office Mondays through Thursdays, from 9AM to 3PM. So, if you want to stop in and say Hello during those times, please do.
---
Chip Isringhaus, Facility Manager, has been with the First Congregational Church since 2002. If you need to learn the ins and outs of the inner workings of our physical plant, Chip is your man. His education and experience include an HVAC Certification from Ranken Tech, which he received as part of his service to the church when our new heating and cooling system was installed.
He has one son, Calvin, and enjoys restoring classic Chevrolet Chevelles.
---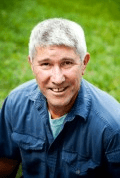 Darrell Lakies, Custodian, is very often the first person you meet when you arrive at the First Congregational Church. He extends our extravagant welcome to any and all who enter.
With the church since 2010, Darrell once worked in a similar capacity with Chrysler at their Valley Park plant prior to its closing. He also served with the U.S. Navy during the 1970s.
Darrell keeps our buildings spotless and well-maintained with great competency and exudes an infectious joy and positive attitude.
Darrell is the husband of Kelly. In his spare time he enjoys his pool or camping.