Did You Know..?
First Weddings
Jo & Sherman Senne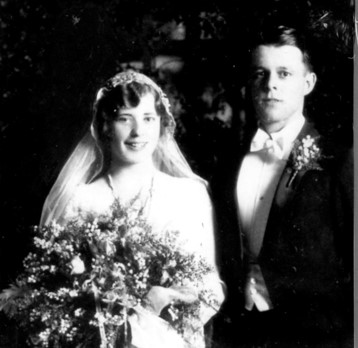 Did you know the pews in the 1892-93 sanctuary were originally arranged on the diagonal without a center aisle?  Worshipers entered the pews from side aisles.
When interviewing Mr. and Mrs. Sherman Senne, in 1990, they told of how happy they were when the Narthex was added and the sanctuary was renovated in 1922.  The configuration of the pews was changed then so there would be a center aisle!  Mrs. Senne, Josephine, remarked, "What bride wants to walk to the alter by way of a side aisle?"  Jo walked down that center aisle to marry Sherm in May of 1928.  Rev. Dwight Bradley officiated at their marriage
Both Sherm and Jo were active church members.  Her name appears in the records of the Women's Association numerous times. Sherm, for a number of years, directed the athletic program held in our church gymnasium.
This was space that had been the original 1871 chapel, but when the larger sanctuary was built in 1892-93 this space was used for other purposes. By the 1920s it had been turned into a gym, open for members and residents of Webster. This was long before there was a Webster YMCA or Recreation Center.
Sherm, soon after he joined the church, became director of the program. Offered were gym classes, games, drills, volleyball for boys, girls, scouts, men, and YWCA business girls.
Both Sherm and Jo were called on to help undertake the establishment of a Colony System, in which all the church members were assigned to a Colony Group. For years these groups met in members' homes for discussion and socializing.  When the church membership was over 1,000 this was a good way for members to be active in a church function and get to know each other.
Compiled by K. Roush 2017