20th Sunday after Pentecost
World Communion Sunday
October 2, 2016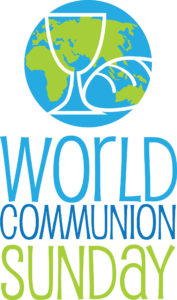 Order of Worship and Bulletin (link)
Pastor Dave Denoon's message of the day concentrates on our theme for the month, Renewing Our Mission. (see cover article from our October 2016 Covenant News. Following worship, during Coffee Fellowship in Memorial Hall there will be a discussion of plans for 2017 in fulfillment of our Year of Renewal proposal.)
The sacrament of communion is designed to remind us not only of a moment in history when Jesus gathered his disciples for one last meal together. It also affirms the moment in time we are all sharing, those we wish could be with us at the table, and those guests who are yet to come and share the feast. But the eucharist also directs our attention to an eternal "moment" when the Creator and creation are united together for a holy meal.
We are stewards of the transformation taking place, uniting earth and heaven (or reuniting them, as our origin stories claim that they were united once upon a time). The earth cries out to us for renewal. Our own faith community longs to be renewed. But their transformation depends on our own. What sort of transformation are you seeking for yourself? What needs to be renewed in you?
The morning time for Sharing Our Gifts will feature an invitation to contribute to Neighbors in Need – a special mission offering of the UCC that supports ministries of justice and compassion throughout the United States. One-third of NIN funds support the Council for American Indian Ministry (CAIM). Two-thirds of the offering is used by the UCC's Justice and Witness Ministries (JWM) to support a variety of justice initiatives, advocacy efforts, and direct service projects through grants.